Just to mention some of the content and about 240Grupp-A.se:
Over 130 pages filled with information, facts and photos you won't find anywhere else (probably).
Over 800 technical photos you won't find anywhere else (probably).
Over 2000 unique photos from worldwide shot by over 150 different photographers, including myself (most photos out of the sites photo archives photographer Lennart Pettersson has taken!)
Over 50 registered cars that's a variation of genuine Group-A cars, replica cars and tribute cars and so on from worldwide.
Over 120 registered races from Europe, Asia, Australia and New Zealand.
Over 100 working hours is behind this specific site, which includes text, photos/photo editing and web coding and research. And the work is carried on on a daily basis.
Over 14 years research, meaning thousands of hours is behind the construction of the concept behind 240Grupp-A.se, a site that is a one of a kind (probably).
Over all I'm not even sure that I wanna know how much this site costed me both in time but also financially.
And all this is presented in its best way by myself, Björn Ohlson, founder of the concept and the site 240Grupp-A.se (est. 2004).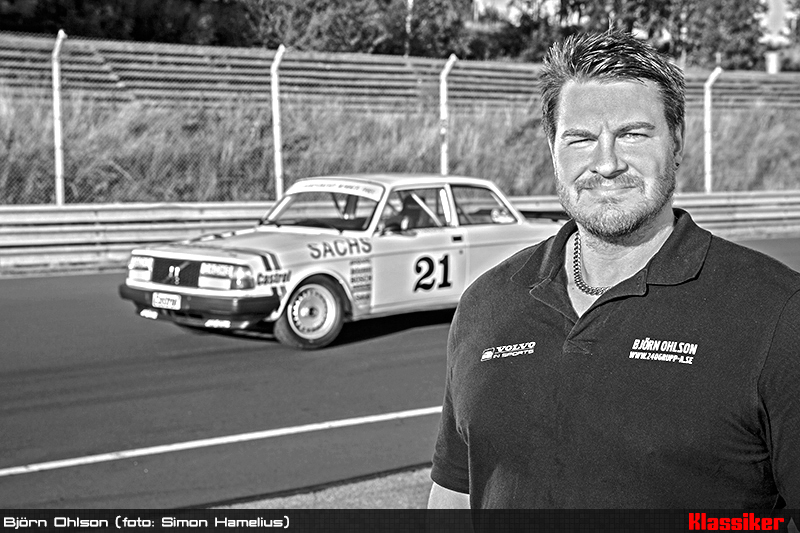 (photo from Klassiker)
Now all the presented information on my site have come out of my hard work, something that has taken me over 14 years of research, and therefore falls under the law of copyright. This means that no text nor photo can be used without either my (Björn Ohlson) written or verbal consent. Now if anyone chooses to do so anyway, I will take you before the court of law.
I will here take the opportunity to refrain from all the ungrateful and disrespectful comments and lies that I've had to take throughout the years from thoughtless amateurs. Perhaps you might find a better way of thinking in the future.
When it comes around very few people knows who I am, and that's active choice from my side. This as I'm not a very big fan of the so called "limelight", while others doesn't seem to get enough of it in the Swedish world of Volvo. Even though the site has been around now since 2004 I'm only looking at myself a tool, a tool that provide information, and that is sufficient for me as I have no desire what so ever to be heard or seen in any major length in for example magazines, Facebook or any other social media either for that matter. But okay now and then this has happened anyhow but its never been on my own initiative, but rather on others, and I can't deny that its a great feeling to be acknowledged for you work. But again, its nothing I'm active looking for.
Instead I let my work speak for itself.
Now my personal opinion is however still that if you have such a need to stand in the limelight, only to "blow your own trumpet", you're only doing what you're doing to feed your own ego and not for a common purpose. Now I consider myself to work towards the latter, for the common purpose. As you gain so much more that way.
Signed
Your Volvo 240 Group-A enthusiast